You may have received an email from HomeTraq that mentions "No Obligation" or "No Solicitation." These principles are intended to protect you, as the buyer, to ensure you can get the best deal on a home as possible.
When we say there is "no obligation," we mean you are not required to use the agent that shows you the house for the entirety of your home search. You can decide to change agents at any point until you enter into a contract with the agent you want to work with. No solicitation refers to the fact that you will not hear from that agent until you decide to work with them, so you won't feel pressured to follow through with an agent that you feel doesn't represent your best interest.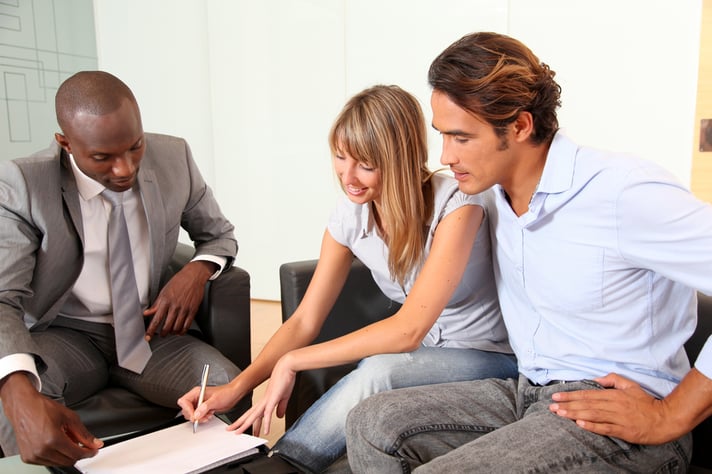 Know the agent's role
Before you know which agent is best for you, you must understand the agent's role in the selling process. Some agents represent the seller, rightfully called a seller's agent. Likewise, an agent that represents the buyer is called a buyer's agent. Realtors can be both a buyer or seller agent, depending on the circumstance. In rare cases, they can represent both the buyer and the seller. In this case, you should be very cautious because this can present a conflict of interest. If you're looking to buy a house, we recommend having an agent that only represents you as the buyer. This is known as a buyer's broker agreement. When you have a buyer's broker agreement, you can be sure that the agent is working in your best interest rather than the seller or a third party.

What is a seller's agent?
Many buyers wonder if the listing agent of a home they are interested in will show the house to them. The answer is "yes", as the listing agent is obligated to show his or her client's home. A listing agent is hired by the seller to work 100% for the seller's best interests. Seller's agents are who you will see in an open house or posted to a for-sale sign in their front yard. If someone has an agent to sell their home, their goal is to get the best deal for their client (the seller) at the buyer's expense.
Additionally, some buyers wonder if they can save money by going directly to that seller's agent to buy the home. On the surface, the thought of cutting out the "middleman (a buyer's agent)" may sound like a way to save time and money. While it may save time, the buyer will NOT save money on that specific purchase transaction.

Why should I have a buyer's agent?
What many potential buyers DO NOT realize is that the buyer's agent commission is determined by the seller. The listing-side AND buyer-side commission is set once a property is listed with an agent. The seller negotiates the total commission they will pay for the home to be sold. This includes the portion to be paid to another "buyer's agent" if he/she represents the buyer in the transaction.
In other words, the seller determines how much they will pay for the commission, and that amount will be the same whether a buyer's agent is involved or not. Therefore, having a buyer's agent included in the deal will not increase the amount of commission paid. Since it is not more expensive, we encourage including a buyer's agent to advocate for your best interest.
Sharing of commission is called cooperating, or a co-op commission. This is a practice that is somewhat unique to the real estate industry. It actually encourages competing salespeople to collaborate and share commission to consummate transactions.

What happens if I don't have a buyer's agent?
If the listing agent also represents the buyer on the same transaction, they will get both sides of the commission. This means the agent will receive both the listing side of the commission and the buying side of the commission (also known as double-ending). A listing agent might be tempted to represent both the seller and the buyer because they can make more money from the commission. We recommend including a buyer's agent from the beginning, so there is no misunderstanding about either party's role in the transaction.
Suppose a buyer signs an exclusive agreement to work with the listing agent under dual agency capacity. In that case, he/she may be obligated to purchase the home through that agent. Additionally, the listing agent will have a fiduciary duty to both the buyer and the seller. Having dual interest could be tricky for the agent. It may require them to make a decision that does not represent your best interest.
Buying a home from the listing agent without buyer's representation is considered a "conflict of interest" and is illegal in some cases. We highly recommend, and sometimes it is legally required that you have a buyer's agent to represent your interest when searching for a home. This will help to avoid any potential mishaps during the transaction.

How to navigate an open house
It is good to keep in mind that when you speak to an agent at an open house, you might be opening a can of worms for yourself if you don't intend to buy a home through them. Your best bet to avoid potential procuring cause disputes is to be upfront with each real estate agent you talk to. If you're already working with an agent, make sure to volunteer that information in the beginning. This protects you and the other agents from getting caught up in a conflict of interest. Remember, you always want to work with an agent that isn't involved with the seller, so you can be sure that they have your best interests in mind.
Ready to start House Hunting?

Technology has transformed the process of buying a home. You can do almost everything from the comfort of your own couch. From finding a house on HomeScout, requesting a Live Video Tour, and signing the paperwork online, every aspect of the home-buying process has become easier and more convenient for the home buyer. For more information about buying a home during COVID-19, feel free to check out HomeTraq FAQ on our website or reach out with any questions you may have.