You can call the selling agent to setup an appointment to view a home, but not having your own representation could be tricky...
Many home buyers aren't aware of agency disclosure, nor understand the concept of a buyer's agent and seller's agent. Many times the first agent a home shopper is exposed to is the "listing agent" of a home found online or the agent he/she meets at an open house.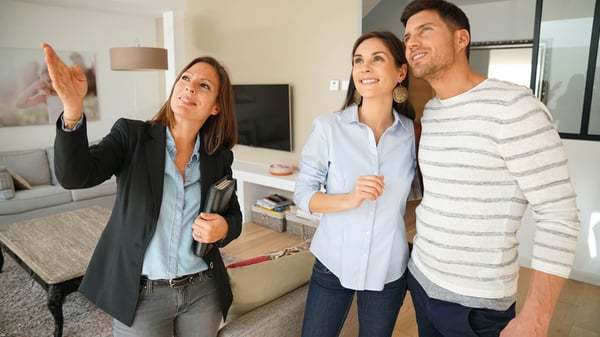 Last year, 63% of home shoppers walked through a home they were interested in after viewing it online. When it is time to tour or inquire about a home, it seems like an easy solution to direct questions to the seller's agent — but this presents an immediate conflict of interest. A real estate agent's loyalties and responsibilities change depending on who the agent is talking to. Here's a quick summary of roles an agent can play in any one transaction.
The listing agent

The listing agent or seller's agent works for the seller and represents their interests in the sale. The seller hires their agent, typically in writing, to market and sell the home. The listing agent's main responsibility is to get the best price and terms possible for the seller. Their fiduciary goals and loyalty should be with the seller at all times.
The buyer's agent
Most times, purchasing a home is emotionally draining and financially stressful. Many consumers seek independent counsel from a buyer's agent. A buyer's agent works with the buyer for as long as it takes to make a purchase. Buyer's agents educate about current market conditions, show homes, and eventually advise when it comes time to make an offer and negotiate with the seller. An invaluable resource, a buyer's agent stands by the buyer's side during the purchase of real estate. Learn how to view homes while "interviewing" buyer's agents with HomeTraq...
The dual agent
Sometimes a buyer forgoes independent representation and chooses to work directly with the listing agent. This situation isn't allowed in some states because it is viewed as a conflict of interest. Where it is allowed, a dual agent represents both sides of the transaction at the same time. In the case of a dual agent, it's challenging for the agent to be completely loyal to either party. Both parties must agree to dual agency in writing, in advance.
Ready to see the house?
When you find a home you might like, you need to book a showing and see it very quickly. Click here to meet an agent at the property and start asking some of these questions.

Who pays for the agent?
The seller pays all real estate agents' commission when the deal closes. When a seller puts the home for sale with a listing agent, the portion of the commission which is to be paid to the buyer's agent is established. The two agents then split the commission. In some states (including Missouri) no portion of the established commission can be credited to the seller or buyer. This is classified as a prohibited commission rebate. In the case of the dual agent, the listing agent takes home the entire commission.
Should you use the listing agent as a dual agent?
Unless you are a confident, experienced home buyer or real estate investor, it is highly recommended to work with a buyer's agent. As mentioned above, many states do not allow dual agency because it is viewed as a conflict of interest. With a buyer's agent, there is no extra cost to the transaction (as mentioned above the total commission paid is predetermined). A buyer's agent will provide an invaluable amount of advice and support in what can end up being a very stressful period. Home buying can involve many twists and turns, so having a loyal adviser along the way will help you make an informed decision on what is likely the largest purchase of your life.
Still looking for your dream house?
Get unfiltered, accurate, personalized & private access to 100% of homes available. Then once you find a home you are interested in meet an agent to open the door so you can check it out.