If you're a first-time homebuyer or simply worry about being able to afford a down payment on a home, you're not alone. Reaching the suggested 20% down payment mark can be a tall task, and seem like an insurmountable obstacle to some. If you live in the St. Louis or St. Charles area, you no longer have to worry about finding enough money in your budget to put down a healthy down payment for a house you're interested in buying.
Most homebuyers aren't paying a full 20% down payment on their house. Don't let the stress of an insufficient down payment keep you from purchasing a great home. There are tons of options for down payment assistance (DPAs) that can help relieve some of the stress of buying a house.
Down payment assistance for St. Louis and surrounding area
The Beyond Housing's Neighbor Works Homeownership Center has a program for down payment assistance! Their goal is to make homeownership a reality for low-to-moderate-income communities who might need a little help getting started financially. This program can be used for down payments or any additional costs that go toward closing a home. Many people are unaware of the extra fees or expenses that might arise during a closing process. If you aren't prepared for all of the additional costs, this program might be for you.
How does it work?
If you need down payment assistance, you can apply by sending in the appropriate information to Beyond Housing's Lending Department or visiting https://www.beyondhousing.org/housing-services. Required paperwork includes your W-2 and recent pay-stubs. Other paperwork may be required depending on your personal circumstances.
You'll also need to reach out to your lender so they can provide some of your financial information. This includes your loan application and loan estimate, a recent credit report, and checking/savings account statements.
Once your application is in order and approved, you will receive an approval letter. Then you can move on to Stage 2 of the program, which entails more paperwork from your lender and realtor. Your lender and realtor will have to provide final paperwork, such as the rate and term (amount and length) of the loan. In contrast, the realtor will provide documents like the occupancy permit and inspection notices. Once all of this paperwork is submitted, the home will be subject to inspection and appraisal.
How much assistance can I apply for?
The amount varies depending on your location. To receive down payment assistance, you must be able to contribute at least $1,000 toward the total down payment, not including the loan. The list below lays out how much you can receive based on your residency.
St. Louis County - $3,000
City of Florissant - $3,500
Jefferson County - $5,000
City of St. Charles - $10,000
City of O'Fallon - $10,000
St. Charles County - $10,000
Furthermore, these loans are given at 0% interest and are forgiven after 5 years! If you decide to move within the five years of paying off the loan, the balance will still be owed to the jurisdiction that provided the loan.
What do I do?
All of the requirements will be laid out to you once you decide to submit an application for assistance. Speak to a local realtor about the program, and they will help walk you through the process. You can also contact your mortgage lender about other possibilities for assistance.
Whether you're looking for assistance for a down payment or for other fees related to buying a house, there are always options that can make your life easier. Down payment assistance can make buying a home go from a dream to a reality. If you're worried about being able to fund a down payment, reach out to any local agent or to your local housing department to determine which route works best for you.
More good news about down payments
The average down payment is much lower than 20%. HousingWire suggests that "only 10 states that have an average down payment of more than 10%" and are "5.3% of the purchase price on average" in the US. The main reason for providing a 20% down payment is to eliminate the Private Mortgage Insurance (PMI) fee, which will reduce the overall amount of your loan. Down Payment Assistance (DPA) exists to reach the 20% threshold faster to eliminate any PMI payments. You can also use other resources like tax credit from the interest you pay on your mortgage to help reach 20% more quickly. In all, if the fact that you can't reach 20% keeps you from buying a home, rest assured that there are plenty of resources to help you save as much money as possible on your mortgage.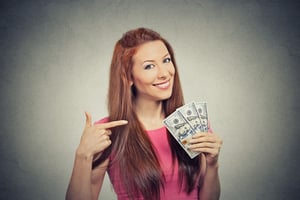 Another option for financial assistance is a grant. Federal, state, and local grants exist to help people fund housing costs. This could include down payments, closing fees, or any other expenses a homeowner might incur during the purchasing process. Some prefer a grant over a loan because they don't require any payback. You can apply for a grant by reaching out to your local or state housing authority, and they will explain the necessary paperwork for the application. Applications are usually available on the housing authority's website as well.
Mortgage interest rates are extremely low right now. It's smart to take advantage of low-interest rates, especially if you're already considering buying a home. If you're nervous about the possibility of interest rates increasing, you can apply for a fixed-rate mortgage while interest rates are low, which ensures your interest payments won't fluctuate with the market. If you're nervous about buying a house because you haven't prepared a sufficient down payment, keep in mind the previously mentioned assistance programs that can make buying a home more attainable. Feel free to speak to an agent or lender for advice on which direction is best for your personal home search.

Ready to start the search?

Technology has transformed the process of buying a home. You can do almost everything from the comfort of your own couch. From finding a house on HomeScout, requesting a Live Video Tour, and signing the paperwork online, every aspect of the home-buying process has become easier and more convenient for the home buyer. For more information about buying a home during COVID-19, feel free to check out HomeTraq FAQ on our website or reach out with any questions you may have.